Panhard piston design finalised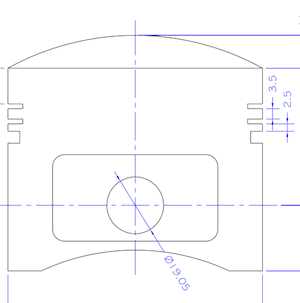 This is the latest iteration of the high compression Panhard piston that I am having made for Brian's engine, and it will be substantially lighter than the OEM set up, but there is a slight compromise with the weight, because I want to use the standard cylinder and liner positions.
This piston will be used to modernise & improve the standard flat twin engine, and be a suitable replacement for the majority of the air cooled Panhard engines. It will need a new piston pin bush to cater for the standard crankshaft, but this is required whatever parts are fitted to the engine, as the original set up leaves little to be desired. This piston set will include a fully floating pin with improved lubrication to the piston pin bosses via cross drillings from the behind the oil control ring.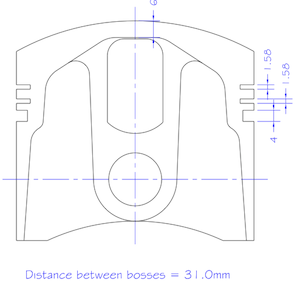 As the piston offers a higher compression over standard, I will be making some conversion shims to lower this for owners that want to run the standard ignition & carburation.
The new bore size will be 85.51mm, and the capacity will now be 861 cc, but if you want to play with different combinations, I created an engine size calculator
here