What a difference a few hours make, and the red curve was the finished result.
Earlier in the morning on the dyno, I was at the green curve stage, come the afternoon I was sitting pretty on the red curve, and when you compare the gains from each improvement, you can see a GTS responds well to modification. If you look at the standard curve and where I am now, there are virtually no losses, and huge gains, between 22-36 hp more than standard, and no camshafts, engine mods or porting has been done to date. Talk about free horsepower.


After fitting the Renegade exhaust, which was an obvious improvement on standard, I have to say I was slightly surprised at the lack of horsepower that replacing the standard restrictive silencer with a more freeflowing straight through noise absorption silencer had actually produced.

According to the Renegade website,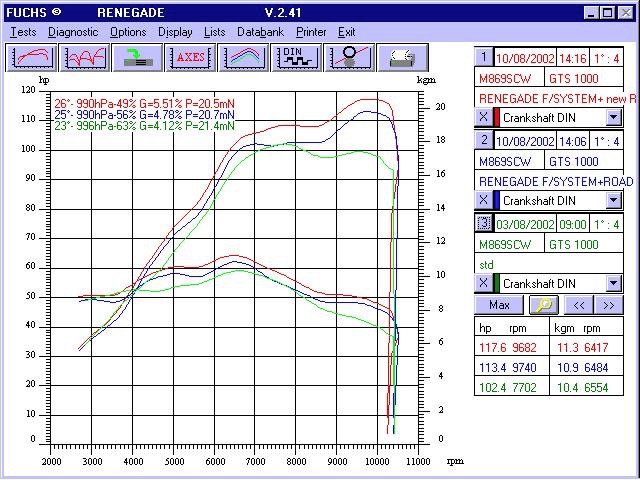 I should be getting a second wind at high rpms, but on examining the Renegade exhaust, I made an interesting discovery...it had not been butt welded as I had thought, but there were blades of metal from the inserted tubes used in it's fabrication sticking into the exhaust flow, and undoubtedly causing back pressure or reversion.

So whilst England were losing on penalties against Portugal, I decided to mod an FZR1000 EXUP exhaust to replace the Renegade in a back to back test on the dyno. The reshaping of the exhaust to clear the centre stand came from various donor parts from the breakers near me, welding was carried out using a MIG set, a flange to mate the Lambda sensor to the EXUP cavity was fabricated and the whole exercise was completed after a few hours.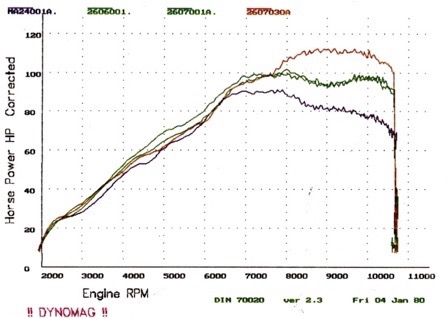 Then it had to be fitted...what a pig this was. A weekend later it was fitted and then it was off to the dyno again.

To be honest the bike didn't feel any different, but your butt is the worst dyno in the world, anyway you'd expect a 4-1 system to gain top end at the expense of bottom end compared to a 4-2-1, all things being equal. I wasn't surprised to see the hp down at low-mid rpm, but I was surprised to see no change at the top end, and more importantly nothing like the Renegade dyno results.

So what was causing this.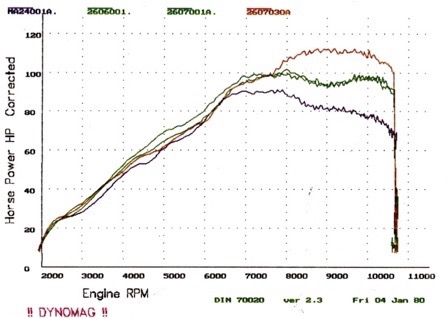 The green curves are the two exhaust systems, Renegade and homemade EXUP versions... nothing in it... and the red curve was a few hours later.